Video is increasingly central across all advertising platforms, with the rise of TikTok, social media sites have all embraced short-form video, from Instagram reels to YouTube shorts. This is THE opportunity to invest in video marketing before your competitors and get your brand and business seen and recognised by as many people as possible.
Planning, production and post-production for video content may seem like a lengthy and expensive process, but there are many ways to keep the costs down. Even better, with full service video production from ICN-Productions, our video content marketing agency, we can realize all of your video marketing dreams. This is in addition to the wide range of digital marketing products and services we provide here at ICN-Media.
We see video around us all the time, on social media, on TV, even on bus-stop ads!
This is because it works as a very effective marketing strategy. Before going into the why, let's go over some statistics of just how successful video content marketing can be from a business point of view.
98% of marketers agree that video is as good or better for conversion rates than text or image-based content marketing.
In the world of digital marketing, the story normally goes: ask 2 marketers- get 8 answers! But even with all of the different marketing techniques, variety of platforms, and ever-changing algorithms, video still comes out on top!
Conversion rates are a primary metric that demonstrates how well a business is doing at attracting interested customers. A positive conversion rate means simply that, a high proportion of people who interact with an ad went on to become a customer or service-user.
Ultimately this means that video creation has the power to reach relevant audiences where you find customers, and/or convert regular internet users into customers.
95% of B2B buyers find that video has a larger influence on purchasing than written content.
In a Business-to-Business (B2B) context, video certainly has a huge effect. Business focused marketing videos can be created specifically with their target audience in mind, to provide the most relevant information to inform the B2B buyer, especially by providing context into the specifics of the product/service and understanding and solving business problems. See BrightCove's 2022 B2B Video Marketing Report [pdf] for more information.
When you google a question or keyword, what comes up at the top of the search engine results page (SERP)? More than likely a video was one of the key featured snippets, a video selection carousel feature catching your eye and answering your question.
Including an informative, relevant video on your webpage or as part of your social media marketing strategy can organically boost your Search Engine Optimisation (SEO) and make your website a popular source. This is a great and unique way to build your brand and present your business as a leading expert in your field with trust from your clients and buyers.
Why Video Content Marketing Works
There are many fascinating reasons why video content is so effective, here are just a few for you to explore.
Different types of videos to benefit any business
There are 3 main categories of video marketing content: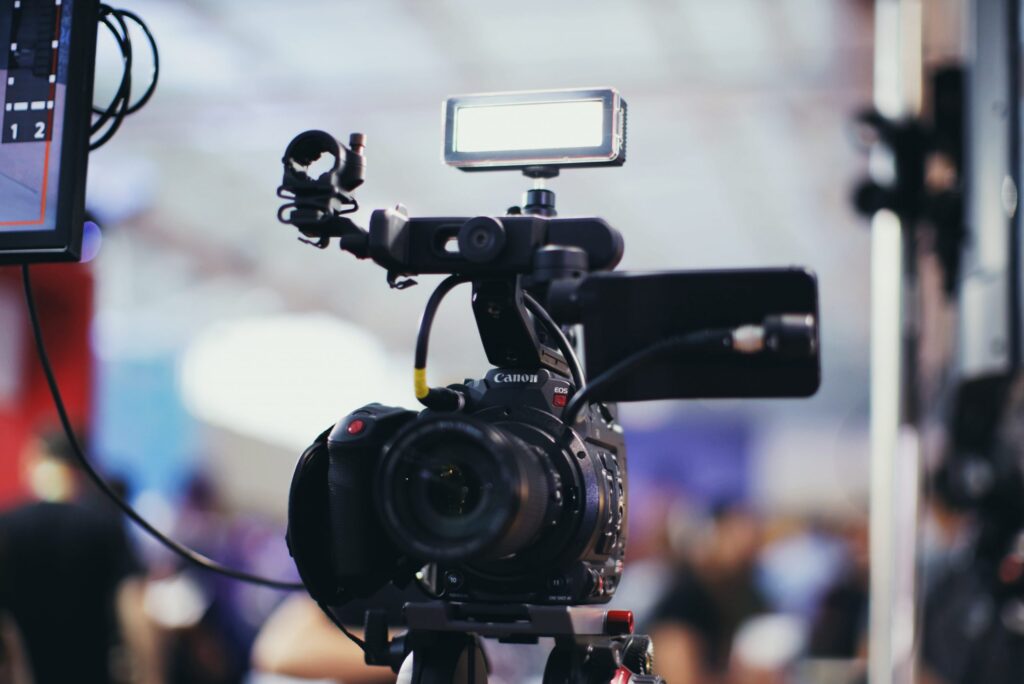 Informative video
This type of video is a simple method to get information across to your target audience. This can either take the form of a product profile, a project presentation, or a description of a specific or a more general service your business provides.
Key to this type of video is to remain relevant and simplistic. These can vary in length but are generally shorter in order to improve memorability and present only the key information.
Promotional video
The most popular video type in use in marketing is the promotional video, which aims to promote a specific aspect of your business, for example, a product or a previous client.
These can be longer-form videos made up of interviews from customer reviews and b-roll presenting what is being promoted. This creates a holistic, positive look at your business which can attract customers and clients through providing information in a broad way.
Product video
Recently, this type of video content was most popular for B2B companies who wish to clearly demonstrate their product or service in a succinct, clear way to appeal to other businesses.
Basing video content on how something works and highlighting its purpose stresses the utility of your product or service, which is important for businesses deciding to invest in and partner with your business.
What a Video Marketing Agency Can Do
Partnering with a video marketing agency makes the process of creating valuable video content marketing with a high return on investment much easier!
Enhancing your company's digital profile and beginning to build your brand through the rising-star of video content marketing is a great way to begin or extent your business' digital marketing profile. Creative marketing is essential to any business aiming to make the most of their marketing, and ICN is there to provide our media services where you need them.
Our Nottingham-based video production team offer top-quality video content for our clients through our wide variety of direct services. Working to your business' goals to make an end-product which suits your company's brand and gets across exactly what you want your customers to see.
We also provide a Video Production Tip Guide if you would like to build your skills in video production, a must-have for video content marketing!
So why not explore your options for our video services and other digital marketing packages, or get in touch to start your journey with ICN-media today.