Is your business visible enough on search engines? Do you want to find out what impact could increased web traffic have for your business?
Having an effective SEO strategy can be the difference between make or break for your business. SEO stands for Search Engine Optimisation and an SEO strategy serves the purpose of ensuring that your website and brand presence is getting the most it can from search engine algorithms to increase your visibility.
Appearing in the first page of a Search Engine Results Page (SERP) can dramatically increase the number of click-throughs you receive from organic traffic on your brand website, which in turn can drive not only awareness and popularity of your brand, but also the number of sales. It's a basic statistic: the more people who visit your website, the greater the chance is that you are likely to make a sale!
Steadily gaining traffic and increasing the customer conversion rate are widespread goals for businesses, and having a strong SEO strategy can be one of the most effective and efficient paths to achievement for this.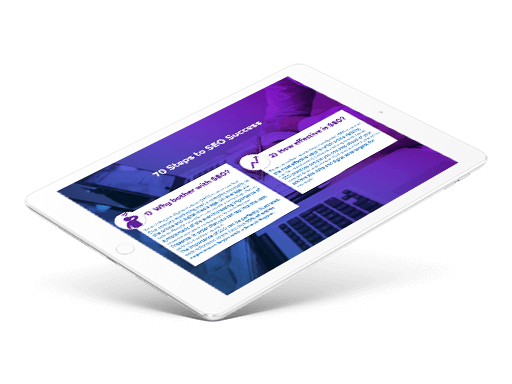 Purchase our "Seventy Steps to SEO Success" now so you can learn to help yourself!
There's a common misconception that SEO has to cost inordinate amounts of money, and because SEO is a murky topic for a surprising number of people, many digital marketing companies justify charging an arm and a leg for SEO. However, at ICN Media, we believe that offering an affordable, bespoke, RESULTS-DRIVEN service can deliver a custom SEO strategy, without costing thousands of pounds a month.
Businesses DO have the option to pay for ads on search engines in order to push non-organic traffic, but this also takes careful planning and entails an entirely different conversation. A typical SEO strategy aims to grow visibility organically, in order to improve search engine rankings, drive traffic, and increase awareness. This can be achieved through a variety of measures, from the actual physical words on your website and identifying keywords, to the structure of your site and the way that it links with other web pages. This process should be beneficial not just for search engines, but also for the most important people in this process: the visitors to your site!
To find out more about whether implementing or updating your SEO strategy could be the right step for your business, check out our SEO Factsheet which delves into the nitty-gritty of how SEO can be used effectively to achieve business growth! 93% of online experiences begin with a search engine. Google receives over 3.5 billion searches a day. 82% of marketers believe SEO is becoming more effective.
By the end of it, you should be able to answer these questions:
Do you know how to access stats about your site health, including how many SEO errors and / or warnings that may be flagged up by search engines on your site?
Is your website large and sprawling, with a large likelihood that there's a backlog of errors that may need dedicated attention?
Do you recognise that you maybe ought to do something to improve your website SEO but you're stuck for ideas?
Has your previous SEO strategy has stopped yielding the results you'd like to see & you'd like some help figuring out how to change this?
Is your business is already paying for an SEO plan, but it doesn't feel like you're getting a lot for what you're paying?
Are you a business of less than five employees? If so, then download our 'Entrepreneur's Offer' – you are eligible for a half-price 'Seventy Steps to SEO Success' Guide or a heavily discounted SEO monthly payment plan!